posted by on General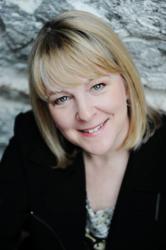 Indianapolis, Indiana (PRWEB) October 29, 2011
TechPoint, Indiana?s technology growth initiative, is bringing Jody Thompson to Indianapolis to deliver an afternoon keynote address at Innovation Summit presented by Comcast Business Services on November 8, 2011.
Thompson is the co-founder of CultureRx and co-creator of Results-Only Work Environment (ROWE). Her first book Why Work Sucks and How to Fix It, written with her business partner Cali Ressler, was named ?The Year?s Best Book on Work-Life Balance? by Business Week. A revised, updated version of Thompson's revolutionary book is now available in paperback.
Thompson has been featured on the covers of BusinessWeek, Workforce Management magazine, HR magazine, Hybrid Mom magazine, as well as in the New York Times, TIME magazine, USA Today, The Wall Street Journal and on Good Morning America, CNBC and CNN.
Thompson is leading the charge to throw out traditional work schedules and completely revolutionize the way people work and live. ?It?s time to change the conversation from ?flexibility? to ?results?. What?s important is that results are being achieved, not where or when the work is being done,? Thompson says.
Many businesses are already seeing the benefits of ROWE. "Since going ROWE three years ago, my company has seen tremendous, measurable gains in productivity and even better customer service,? said Michael Reynolds, president and CEO of Indianapolis-based digital agency SpinWeb. ?Cali and Jody are progressive innovators and working with them has been inspiring.?
Thompson is one of the keynote speakers being featured at the day-long conference and exhibition being held at the Indiana Convention Center. Former Facebook Spokeswoman and Director of Market Development Randi Zuckerberg will deliver a keynote luncheon address and spend an additional 45 minutes taking questions from attendees. Michael Stelzner, an entrepreneur, author and founder of SocialMediaExaminer.com ? one of the world's largest business blogs ? is scheduled to deliver the opening keynote.
In addition to keynote addresses by Thompson, Stelzner and Zuckerberg, Innovation Summit will feature presentations by more than a dozen other thought leaders, and Innovation EXPO display booths will showcase the latest breakthroughs and developments from Indiana startups, universities, service providers and established companies alike.
About TechPoint

TechPoint is Indiana?s statewide technology initiative focused on growing Indiana?s tech sector by promoting the successes of technology companies and professionals; supporting the formation, expansion, and attraction of technology companies; and advocating appropriate public policy. For more information, please visit http://www.techpoint.org.
About CultureRx

CultureRx is a professional consulting firm founded by Cali Ressler and Jody Thompson, creators of the Results-Only Work Environment (ROWE). ROWE is a management strategy focused solely on results, increasing organizational efficiency and output while creating a climate in which employees can manage all of life's demands. CultureRx is the official provider of the ROWE implementation process in public and private sector organizations – in both for-profit and non-profit settings. For more information about ROWE and CultureRx, please visit http://www.gorowe.com.
###
Tags: Author, CoCreator, Deliver, Environment, Innovation, Keynote, ResultsOnly, ROWE, Summit, TechPoints, Third, Work